The Richland County Sheriff's Department responded to a report of a man brandishing a pocketknife at a Walmart in South Carolina, but before they could arrive, a veteran subdued the assailant.
A Walmart witness told agents the man was brandishing a pocket knife and threatening employees and shoppers in the self-checkout area.
Florida bartender wins award for defeating armed assailant, saving life in shootout
One shopper and veteran, DeMario Davis, was caught on video, forcing a man to hit him on the head and drop a knife.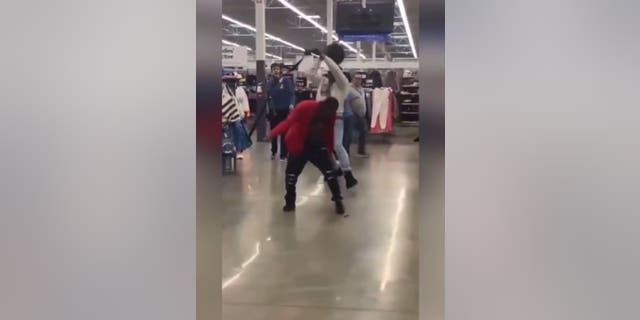 "When I was checking out, my son noticed a man walk in with an open knife. He then proceeded to the service desk wielding a knife at several female employees. They ran away from the man.Then I asked a female employee where she was."I said it was security and she said it was security," Davis told Fox News Digital. I was walking towards an area where a gentleman waving a terror was terrorizing other customers and employees, and he yelled if the cops got here, I'm going to start chopping you up."
"Another guest tried to subdue a gentleman wielding a knife, but the man tried to cut his face. That's when my military training began. I failed, but I had good military training." We were able to neutralize the threat until law enforcement arrived," Davis told Fox News Digital.
BUFFALO WINTER STORM: Police search for hero who saved several lives
"My first instinct was to neutralize the situation, so I just waited until I had the chance to walk casually and catch him. With gun violence you know, we want people in the community to step up as well. Cops can't do it all on their own.
CLICK HERE TO GET THE FOX NEWS APP
"I have received so many heartfelt comments and tributes from civilians and veterans for my brave actions and swift response," Davis told Fox News Digital.