Are you seeking clear, accessible, and affordable dog training for your best friend?
Research from Generation Pup reveals that the number of dog owners who train their dogs using at-home positive reinforcement is steadily climbing.
Although a small percentage of people obtain formal training for their canine friends, many choose to train independently.
However, at-home training can only be effective with guidance since many dog owners simply need to gain the skills to complete training correctly.
If you want to train your pup but aren't sure where to begin, you've likely considered SpiritDog training.
This company is a significant player in the dog training industry and provides online dog training courses. This guide provides comprehensive SpiritDog Training Reviews so that you can make the right decision for your furry friend.
Over 63,000 Dog Owners Are Using The SpiritDog Training Method: Join The FREE 7-Day Course
Overview of Spirit Dog Training
SpiritDog Training is a company that uses positive methods to provide online dog training course videos—from the comfort of your own home.
The company has catered to over 60,000 dog owners across the country, and SpiritDog has been featured in major publications for its unique offerings.
SpiritDog Training Reviews suggest that the company's promise of offering practical, fast, and easy at-home training is verifiable. SpiritDog Training online courses consist of hundreds of on-demand classes to train anytime and anywhere.
Course offerings range from basic training and obedience training to puppy training and lessons for reactive dogs and rescue dogs.
Training sessions are led by professional dog trainers, and each Spiritdog training offer includes lessons with comprehensive audio segments and PDF files.
Work with a professional dog trainer in a group or access your Spiritdog training work with a one-on-one trainer.
About SpiritDog Training
SpiritDog Training is the brainchild of Steffi, a dog trainer who has been working with animals since 2013. It is the first offer of its kind since most dog trainers require in-person attendance.
Steffi teaches all the classes on the platform and offers clear and actionable directions in easy-to-understand language.
SpiritDog Training offers include:
Tackling Reactivity Bundle:

This helps you address reactivity issues with your furry friend and prevent injuries.

SpiritDog Parkour:

This fun sports training course is an excellent time for you and your dog—and is ideal if you want to compete or enjoy a fun challenge with your dogs.

Confidence Booster:

This course helps your dog feel secure and comfortable around other dogs.

Perfect Obedience Bundle:

This bundle will teach you all the basic skills you need to know to train your dog from A to Z—and have a better relationship with your dogs.
Pros and Cons
SpiritDog Training offers several benefits and drawbacks.
Benefits include:
Tons of diverse options
Relatively affordable pricing
Easy to use and access from anywhere
Self-paced individual courses and step-by-step instructions
Lifetime access
Drawbacks include:
No in-person options
No live options
Only one teacher
Things to Consider Before Buying Spirit Dog Training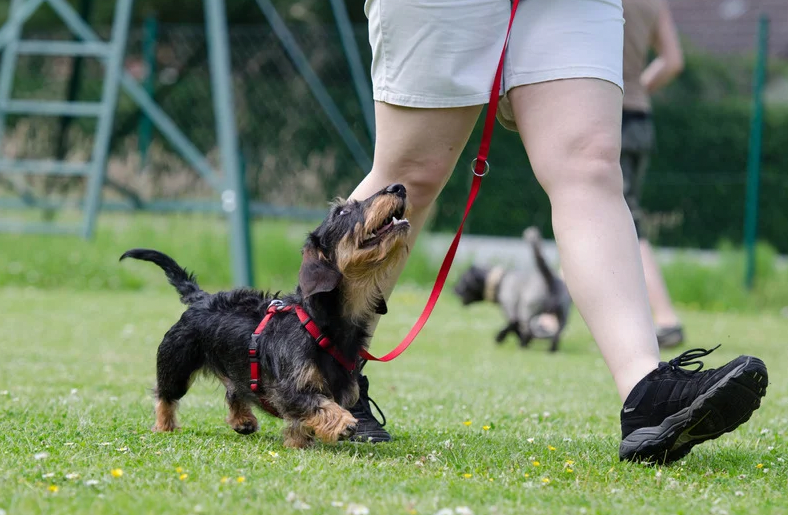 Before opting for a SpiritDog Training course, consider the features you wish to benefit from in a dog training product program.
These include:
Pricing:

Choose a dog training program that accommodates your budget. SpiritDog Training is moderately priced, so it is adequate for most budgets.

Time:

Most dog training programs take a long time. SpiritDog promises to complete training in a short and manageable time.

Trainer:

Some people prefer to have someone else train their dog, while others prefer to do it alone.

Accessibility:

The advantage of a program like SpiritDog is that you can access it anytime, anywhere. This is a significant benefit for busy dog owners.

Customer Service:

Consider how much you might need support along the way! Customer service is always an important feature to consider in any business.
Ultimately, SpiritDog Training meets most of the above categories for excellence and is an excellent choice for dog owners.
Features & Benefits of SpiritDog Training
SpiritDog Training offers many unique products and services.
This company has a diverse library of dog training courses and bundles, so you can choose any combination that appeals to you.
Ultimately, it offers the best value for your money—and more flexibility than working with a local trainer.
Accessibility and Ease of Use
The right program is one you can access and understand.
Unfortunately, many online courses are poorly designed and hard to follow—but the SpiritDog Training offerings are not among them.
The platform has a user-friendly interface and is highly intuitive. Courses are easy to access and understand—even if English isn't your first language. The trainers speak slowly, clearly, and comprehensively—and they do not mince words, so you can ensure you will understand everything from start to finish.
Highly Skilled and Responsive Trainer
Steffi Trott, the owner of SpiritDog, is highly skilled and received her training from top European dog trainers, including Silvia Trkman, Martina Klimesova, and Polana Bonac.
She is clear, concise, and comprehensive, and knows how to articulate each trick in several ways so you (and your dog) can work quickly and efficiently.
A good trainer makes all the difference since they allow you to finish your program faster and can help prevent injuries and resolve behavior issues.
SpiritDog Training Courses
The heart of any dog training program is the quality of its courses.
Steffi offers tons of excellent courses for every dog, and you can pick and choose the ones that work for you.
Every course is on-demand, so you can access and watch it anytime and from anywhere—including your mobile phone.
Course offerings include:
Basic Obedience
Mastering Potty Training
Calm Down
Canine Fitness Course
Dog Tricks
Frisbee Tricks
Dog Agility at Home
Creating Online Classes for Dog Professionals
This list is just a tiny sampling of the platform's many courses.
Best of all, you can watch each one as many times as you want and progress through each at your own pace.
Over 63,000 Dog Owners Are Using The SpiritDog Training Method: Join The FREE 7-Day Course
SpiritDog Training Bundles
Steffi also offers multiple training bundles, which can provide better value for your money since the bundles include discounts on individual classes.
Courses are typically bundled according to the outcome desired. For example, you can choose the Perfect Obedience Bundle, which includes the Basic Obedience course and Dog Tricks.
Additional bundles include:
Loose Leash Walking Bundle
Ultimate Puppy Program Bundle
Perfect Focus Bundle
Tackling Reactivity Bundle
Perfect Obedience Bundle
Ultimate Masterclass Bundle
SpiritDog Academy
If you love the SpiritDog platform, you can join SpiritDog Academy, an all-in-one solution to your training needs.
SpiritDog Academy costs $20 to $89 a month and allows you to access all included courses, roadmaps, and quizzes. You also gain access to the SpiritDog Community, where you can connect with other dog owners.
There are weekly Zoom meetings with Steffi where you can ask your pressing questions and receive live training. You can also access Steffi's video blog for additional information and training.
The SpiritDog Academy is an excellent choice for most dog owners seeking an all-in-one solution.
Complementary Products
SpiritDog Training offers more complementary products than most online training opportunities.
First, you gain access to the core curriculum for each course and bundle—for a lifetime! You can reaccess the courses time and time with different dogs.
YOu also receive free mini-courses with each purchase, which touch on different subjects like nutrition.
Steffi routinely bundles free ebooks and PDFs into her offerings, including her ebook "14 Days for Better Focus," which teaches you how to keep your dog's attention.
Each lesson culminates with a quiz, and the courses finish with a certification, so you can proudly demonstrate your knowledge to yourself and others!
Over 63,000 Dog Owners Are Using The SpiritDog Training Method: Join The FREE 7-Day Course
Affordability
Steffi's training packages are highly affordable.
The most expensive bundle costs the equivalent of an in-person session with a highly skilled trainer, and you'll definitely get your money's worth.
To make your decision, consider the pricing below:
Introductory Obedience Offer

costs $115.

The Out and About: Focus in Public course

costs $49 and helps improve your dog's focus.

SpiritDog Academy Membership

costs $20–$89 a month and is excellent for multiple dogs.
Ultimately, Steffi's prices are more competitive than most, which makes sense because this is a purely digital option.
However, SpiritDog Training does not compromise on quality, so you can rest assured you will get excellent value for your money.
Lastly, SpiritDog Training offers a 100% money-back guarantee for up to sixty days after your purchase, which is relatively unique among offerings of this kind.
Quick, Easy Results
SpiritDog Training promises each customer: that you will achieve your goals in as little time and as seamlessly as possible.
To that end, the company does virtually everything it can to ensure you meet your objectives. The courses are fast to the point, and you can repeat them as often as you need to practice.
Steffi is easily accessible via email and messaging, and you can choose to attend Zoom classes or request live training.
Because of this program's flexibility, it is ideal for those seeking a versatile option—at a low cost and with little risk.
Unparalleled Customer Service
This company has many unique benefits, but its customer service stands out above all.
SpiritDog Training offers comprehensive, responsive customer service. They are responsive and reliable and provide multiple avenues of communication, including email and phone contact.
Each class includes unlimited questions for your trainer, so you can get personalized support without breaking the bank.
Users report that the trainers are responsive and will work tirelessly to answer your questions. They also provide individualized feedback!
You can also benefit from a 60-day money-back guarantee, allowing you to invest in the project without risking your funds.
Social Proof
We scoured the internet for the most honest, comprehensive reviews of SpiritDog Training. Consider reading the following considerations before making your decision.
Worth Every Penny – Kat Friedman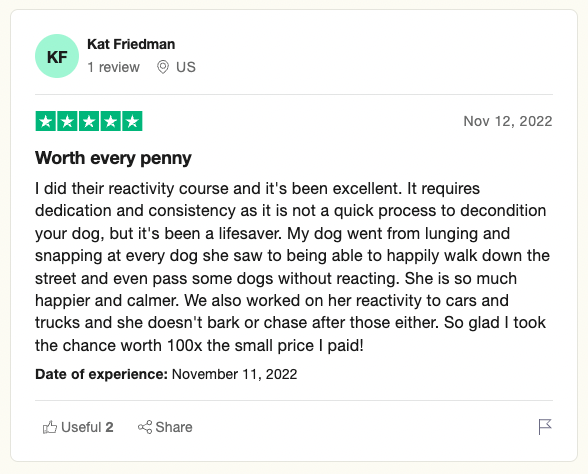 I did their reactivity course, and it's been excellent. It requires dedication and consistency as it takes time to decondition your dog, but it's been a lifesaver. My dog went from lunging and snapping at every dog she saw to be able to happily walk down the street and even pass some dogs without reacting. She is so much happier and calmer. We also worked on her reactivity to cars and trucks, and she doesn't bark or chase after those, either. So glad I took the chance worth 100x for the small price I paid!
Game-Changing Reactivity Course – Karen Mulvee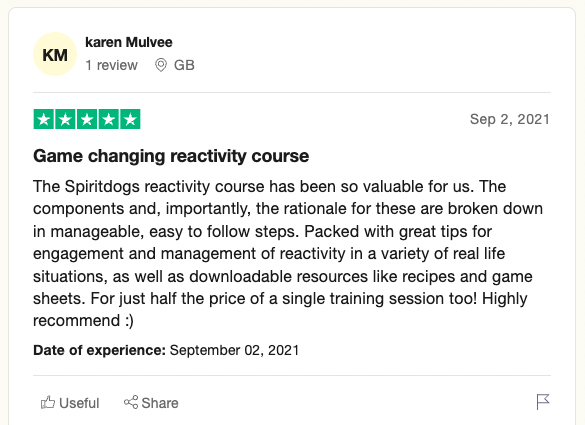 The Spiritdogs reactivity course has been so valuable for us. The components and, notably, the rationale for these are broken down into manageable, easy-to-follow steps and packed with great tips for engagement and management of reactivity in various real-life situations, as well as downloadable resources like recipes and game sheets. For just half the price of a single training session too! Highly recommend 🙂
Alternatives to SpiritDog Training
The best choice for SpiritDog Training is the K9 Training Institute.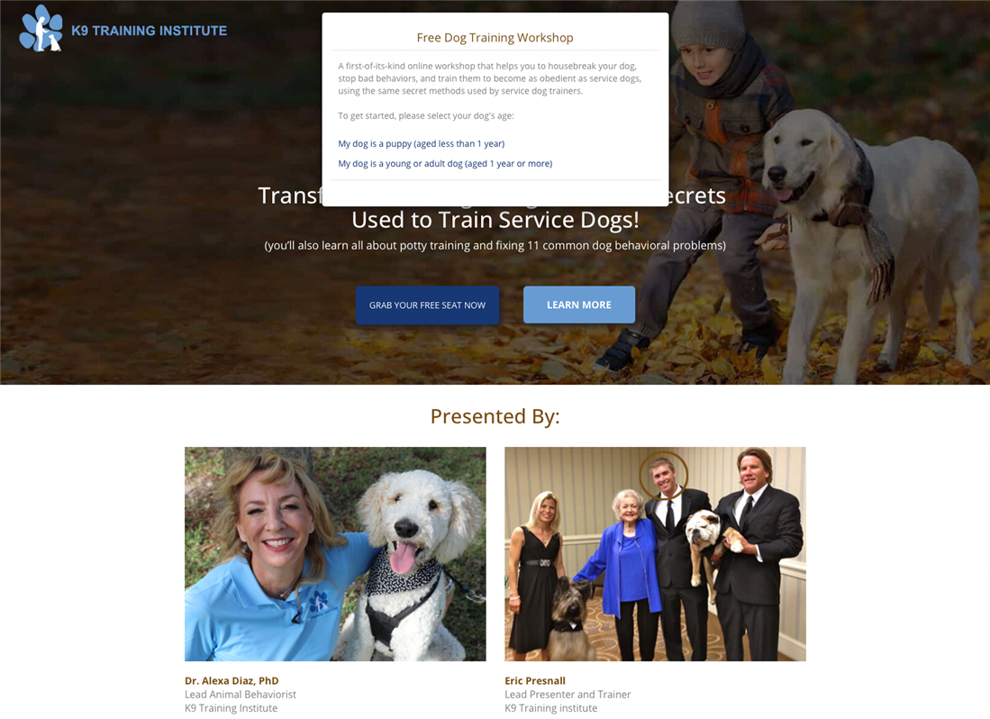 This online, on-demand dog training program was founded by Dr. Alexa Diaz, a lead animal behaviorist with a Ph.D. in Animal Behavior and over 20 years of experience.
All the other trainers are equally qualified, and users report a premium quality on their courses and bundles.
Each offering includes:
Training courses led by experienced and qualified trainers
Hands-on practice with professionals
A step-by-step blueprint to help you map your pup's journey
PDF summaries of daily training
Live Q&As with trainers
Lifetime access
The K9TI Masterclass costs $497. This is more expensive than SpiritDog Training and includes fewer courses.
However, K9 Institute offers a free online dog training program to entice users to purchase its additional products.
Consider checking out their free product before making a more substantive investment. You can check out our K9 Training Institute evaluation here.
Conclusion
SpiritDog Training is ideal for owners seeking an accessible, easy solution to their training needs.
This company provides comprehensive, quality training from the comfort of your own home, and prices are affordable for most.
Ultimately, SpiritDog Training offers excellent value for your money. Start with your free 7-Day Course today!